Glencree Centre for Peace and Reconciliation
Glencree Centre for Reconciliation
Glencree
Co. Wicklow
Ireland
Contact Details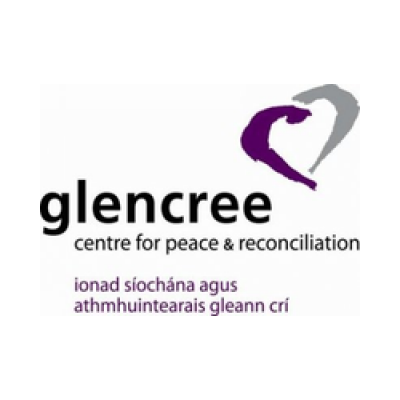 The Glencree Centre for Peace and Reconciliation's (Glencree) mission is to deepen reconciliation within and between communities on the island of Ireland and selected contexts internationally.
It achieves this by helping the transformation and building of relationships through facilitated inclusive dialogue and capacity building of stakeholders. 
Glencree was founded in 1974 as a direct response to the violence happening predominantly in Northern Ireland and has decades of experience in transforming violent conflict and building peace.  Through working with politicians, women, youth, victims/survivors, ex-combatants and community and religious leaders Glencree has built a strong reputation for its practical contribution to peacebuilding and the Irish peace process.
Since 2004, following approaches from actors involved in peacebuilding in other areas of conflict, Glencree started to develop its International Programme that has resulted in its engagement in or with actors from over 10 conflict areas around the World.  In Glencree's Strategic Plan 2013-2017 three key objectives for the International Programme were identified. These are: 
1)      To facilitate the sharing of lessons from the Irish peace process to help those involved in conflicts elsewhere explore new possibilities for transforming their conflict.
2)      To help transform violent conflict in a small number of fragile contexts through the implementation of multi-annual programmes with strategic partners.
3)      To strengthen staff security management practice.
The International Programme is based primarily on Glencree's experiential learning from its engagement on the island of Ireland. The approach Glencree takes is a combination of:
1)      Facilitating visits to the island of Ireland to meet and hear from a wide range of actors involved in the Irish Peace Process.  (On average Glencree facilitates three to four incoming visits per year and on occasions takes delegations from the island of Ireland to other places).
2)      Longer term multi annual interventions with partners in countries experiencing or coming out of violent conflict.  (Haiti and Afghanistan have been of significant focus for Glencree in more recent years and after successful programmes Glencree is ending its work in those countries.  Glencree is working towards starting programmes in two or three other contexts over the next couple of years and is currently, with partners, developing longer-term programmes in Liberia and Mali whilst monitoring closely events in the Middle East where it has done a number of pieces of work since 2004.  Increasingly, through partnerships, Glencree is seeking to strengthen its work by building stronger links between peacebuilding and international development and humanitarian work to ensure a more holistic and sustainable response to violent conflict.  This approach was effective in Haiti where Glencree with Concern Worldwide significantly contributed to the reduction of violence in slum areas of Port au Prince whilst also addressing issues of poverty and inequality).
No content
This organisation doesn't have any publicly available content.
More Information
Type of Organisation
VCSE